Strange Bizarre Things You See In Dubai
Life of the riches: strange things you only find in Dubai.
Https://tripalert.net. Dubai is one of the most eccentric cities in the world. But the city has a big time problem: the people are extremely wealthy than anyone like us and they could over spend on whatever seems unnecessary yet it is fun to see these things in action. Indeed, spending like crazy is the only solution to the issue. That's why Dubai is full of absolutely insane and expensive stuff that you're not going to find anywhere else in the world.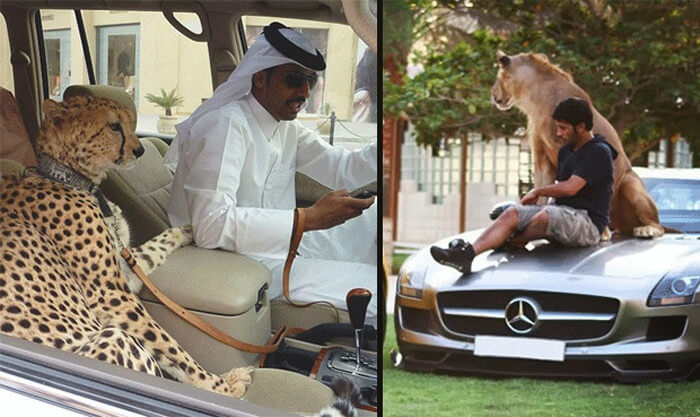 When endless oil reserves was discovered in Dubai back in the early 1960s, the city has turned big time upside down as if into a desert playboy playground opulence and too much money is flaunted in Dubai and the city burns through money like it's going out of style: From Burj Khalifa the seven star hotels to exotic pets to gold ATMs.
Here's a look at the wild, weird and luxurious things that make Dubai so interesting. supercars are a fairly common sight in the world's richest cities. You might see a Ferrari or a Lambo on the streets of Shanghai, New York or Tokyo but you will only see a supercar hanging from a helicopter in Dubai in 2013. Aston Martin landed a $300,000 vanquish on the helipad of the $1 billion Burj Al Arab hotel, it was a truly magnificent sight to behold when you have deep pockets why not do something crazy like lift a sports car 1000 feet above the ground? The PR stunt was a celebration of 100 years of Aston Martin will we see a supercar on top of the Burj Khalifa when Aston Martin celebrates 200 years a supercar on the verge Hello Rob. Hello Pat is crazy, but an f1 racecar doing donuts 1000 feet in the air is even crazier to celebrate winning the Formula One drivers' and constructors' championship Red Bull landed the Red Bull f1 race car on the verge Hello Rob Hello pad with an Augusto Westland A w 139.
Helicopter driver David Coulthard let the rubber fly on top of the helipad, it takes a lot of skill and guts to pull off and impressive stuff like that. Redbull spends $181.1 million per season on its f1 team. So pulling off that wild helipads dunk was just a drop in the bucket. When you're worth billions you don't need to head to the pound to pick up a stray cat. Instead you throw down stacks of cash and buy yourself a lion or a tiger.
Vin Mohammed the Crown Prince of Dubai has an adorable pet lion named moochie.
The prince isn't afraid of snuggling with this Ferocious Beast and has posted Instagram videos of himself giving his good boy scratches. He's not the only one in Dubai with an exotic big cat. Many wealthy people in Dubai have been photographed with their pet cheetahs, lions and tigers riding shotgun in supercars. It may be cute, but it's a serious problem. The United Arab Emirates has passed a law banning exotic pets like big cats and owners can now face fines of $136,000 that's pennies to billionaires so it hasn't done much good billionaires can easily afford to buy big cats tiger cubs can cost $3,000 and a rare white lion can sell for around $50,000 on the black market. You're more likely to see this crazy stunt in nearby Saudi Arabia, but daredevils have attempted this dangerous feed in Dubai as well. sidewall skiing is when brave and stupid drivers balance a car on two side wheels.
Truly brave souls even climb out of the window while the car is balancing at a precarious angle. This insane stunt was even glorified in the music video for Mia as bad girls. Yeah, you'd have to be a bad boy or girl to try something this crazy. Drivers usually performed this death defying trick while driving a Junker but those that have the money sometimes try balancing Mercedes or Range Rovers if you trash the $100,000 car I just buy a new one to Dubai men were arrested in 2010 after performing this dangerous stunt on Sheikh Zayed Road. Needless to say Dubai's chief of police was not happy.
Dubai has a staggering amount of supercars, $300,000 Ferraris and $1 million Bugatti are as common as f 150s. In America, rows upon rows of supercars are parked along the streets of Dubai and luxury cars are packed tightly together during traffic jams. But not all supercars are pampered and handled with kid gloves. Sometimes they end up smashed, damaged and left to die in junkyards as many as 3000 cars are abandoned every year in Dubai. They're simply discarded and left together dust in the blistering desert heat. It's truly heartbreaking to see a $1.3 million Ferrari Enzo left to rot quick we need Jay Leno to rescue all these amazing supercars. Many of the abandoned supercars were once owned by foreigners who fled Dubai to avoid bankruptcy. Dubai follows Sharia law, which means non payment of debt is a crime. There are no bankruptcy laws either. So if you don't pay your debt, you're in big trouble give up your Lamborghini or go to jail. car enthusiasts have flocked to Dubai looking for a deal.
Abandoned supercars are auctioned off and if they don't sell they're shredded luxury autos and supercars worth hundreds of 1000s can be sold for as low as 20 grand. camels are a big part of life in Dubai, you might even see one having a rescue next to a supercar. tourists can take a leisurely camel rides along the beach and adventurous travelers can even try a camel burger or a camel milkshake. That certainly sounds more luxurious than McDonald's on large leaves in the Dubai Mall even serves up camel ice cream and camel chocolate. Let us know if you try it will stick with Swiss chocolate Thank you very much.
When people in Dubai want excitement they head to the racetrack but it's not horses or greyhounds here. There are no jockeys in camel racing. Instead, trainers drive alongside the track and use walkie talkies to give commands to the camels via speakers attached to their backs. There are even remote controlled whips to push the camels toward the finish line.
Camel racing is a big business and the prices are huge champion camel racers can take home as much as $2 million for a single race and even win luxury cars. You can't bet on races though as gambling is illegal in Dubai. The Burj Allah ROM is the antithesis of a motel six it cost $1 billion to build the 1053 foot tall pleasure palace and it is the only seven star hotel in the world. A nightstand this incredible hotel will cost you at least $1,000 and if you want the pinnacle of luxury, you better be prepared to shell out even more you'll need 24,000 to stay just one night in the two story Royal Suite. Imagine ordering Beluga caviar via room service, you'll get to relax and travel in style when you stay at the Burj Al Arab the hotel features a fleet of Rolls Royce phantoms to transport guests to and from the airport or you can travel by helicopter or Mercedes if you prefer.
Either way, it'll set you back at least $300 you can even book a luxurious Dubai helicopter tour right from the concierge desk for a mere 20 $700. The interior of the hotel is adorned with statuario marble and 24 karat gold accents. Check out our entire video about the Burj all around. If you want to know more about this stunning hotel. There's no need to lug around your heavy gold bars when traveling in Dubai simply head to a gold to go ATM when you need your gold fix in just 20 seconds you can have a gold bar or nugget in your hand. Of course it'll cost at least $15,000 for a 250 gram bar but you are paying for convenience prices are updated every 10 minutes via the internet so you know you're getting an accurate price. There's a goal to go ATM at every entrance of the Burj Khalifa and there's also one on the Burj Khalifa is at the top viewing platform on the 100 and 24th floor. If you look at Dubai from space, you'll see amazing patterns not seen in nature mats because there are numerous man made islands along the Dubai shoreline.
The palm islands which consist of Palm Jumeirah, Diarra islands and palm debelle costs $12 billion to build using land reclamation, the islands just keep coming global investment company Dubai holdings has plans to spend one point $72 billion building Marsala ROM which will be a 4 million square foot pair of manmade islands located near the Burj Al Arab hotel. When aliens finally make contacts one of the first things they will see will be the giant palm leaves next to Dubai. When you think of World Class ski resorts what comes to mind you probably think Canada or Switzerland right? Well maybe you should add Dubai to that list. Why leave the city when you can enjoy the snow and cold right in the middle of the desert. Ski Dubai is located right in the Mall of the Emirates and it's one of the largest indoor ski resorts in the world. There are plenty of fun things to do besides skiing.
You can try bobsledding, take a giant zorb down a snowy hill or even playing with the penguins that call the resort home. It doesn't come cheap though. Nothing in Dubai is cheap, it'll cost you $200 to ski for just two hours Ski Dubai cost a staggering $400 million to build. But that's a small price to pay to be able to hit the slopes when it's plus 40 Celsius outside. Forget porcelain you deserve the finest luxury when sitting on the can in Dubai you can experience going to the john in luxury we sure have come a long way from having to go to an outhouse in the middle of the night to take a leak. If you're in Gen Z you probably have no idea out houses were a thing. Ask your grandparents and then you can explain to them what Tick Tock is Coronet jewelry created a 334 carat commode featuring 40,815 diamonds, there's no way you'd be able to buy this one point $28 million toilet at Home Depot. The luxurious loo was showcased at the amazing museum and gallery in Dubai. But it's not the only strange thing covered in gold you might find in Dubai, guests at the Burj Al Arab hotel can enjoy the use of a 24 karat gold iPad. No you don't get to keep it but you can buy one in the gift shop for $10,200. At least you can take the shampoo and soaps home for free. People in Dubai are obsessed with gold. The city is home to the Dubai gold souk, which is one of the largest gold markets in the world. That's it folks. What is the strangest thing you've heard about in Dubai? Are you surprised by the crazy and expensive things in this city? Would you spend $24,000 to stay in the Burj Allah Rob Royal Suite?